Utah's Best Selection of Laminate Flooring
If you're looking for laminate flooring in Utah, Ogden's Flooring is the perfect place to start. With a huge selection of laminate floor options in various styles and color combinations, you are sure to find the laminate floor that best suits your needs. We have 12 flooring stores throughout Utah with helpful and knowledgeable flooring consultants that you can trust to help you find the right laminate floor for your home.
Why choose laminate flooring?
Laminate flooring is a popular floor choice for Utah homes. Laminate floors are durable and affordable without sacrificing style! Laminate flooring is designed to mimic the look of natural hardwood flooring or tile. Laminate flooring is resistant to scratches, dents, and stains, making it one of the most durable and versatile flooring options. Laminate flooring holds up well with Utah's dry climate and it is a great option for homes with pets or children, or in high-traffic areas and commercial spaces. There are many different styles available in laminate, from classic and traditional to mid-century or modern.
Laminate can help to reduce noise, and can often be installed over a sub-floor. Many styles are interlocking, allowing them to easily installed over other types of flooring, reducing labor costs and installation time.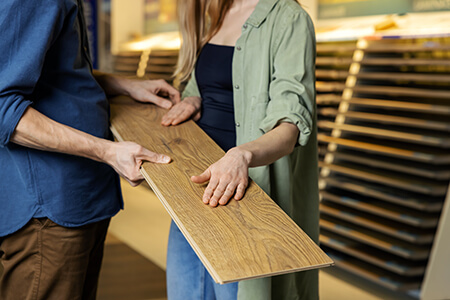 Get the Floors You Want Now And Pay For Them Later With
The benefits of laminate flooring
Just a few reasons why laminate flooring is a popular choice for Utah homes
Affordable
There is likely a laminate product for any price point or budget. As one of the most affordable flooring options, laminate is great for rental properties where flooring may need to be replaced more frequently.
Durable
As we mentioned above, laminate is durable. Unlike hardwoods that can be easily scratched, or ruined with moisture, laminate is composed of strong material that is sure to last. You can even find a wide variety of options that give the look of hardwood!
Easy to clean and maintain
 If you have pets or children in your home, laminate is a great choice for easy cleaning. Most spills can be easily wiped up, or dust and debris can be swept away quickly. Laminate typically only requires a damp cloth for cleaning.
Color and style variety
Laminate comes in a huge array of colors and textures, allowing you to choose whichever style fits your home best. Wood-look laminate is available in shades that mimic a wide range of natural wood species, which can be blond, red, dark brown or black. Finishes can be smooth or distressed, with patterns that look like knotted wood.
Ease of installation
Laminate flooring is a floating floor with planks that lock together. This makes installation a relatively simple process. If you have the know-how and a little time, it may make for a good DIY project.
Are you done looking at pictures of floors?
VISIT ONE OF OUR SHOWROOMS
And See These Beautiful Floors in Person!