When it comes to choosing the perfect flooring for your home and family, we are dedicated to providing you all of the resources you need to make the right choice. Today we are focusing on our 100% waterproof flooring options and, trust us, there's a lot to love here! 
Between LVP, LVT, WPC, Rigid Core, SPC (and more), there can be a lot of industry lingo surrounding this topic, but you can leave the technical stuff to us. We're here to focus on what's important to you: the many benefits of our cutting-edge waterproof flooring options, which are available now at a great price. 
Fully waterproof and scratch resistant.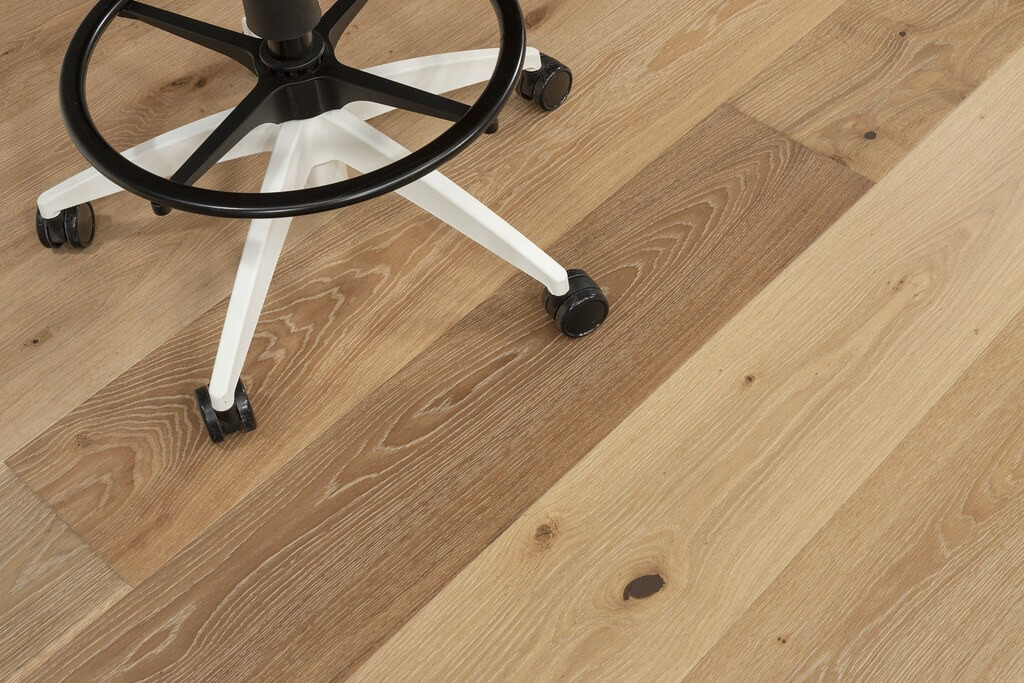 One of the things we love about Utah is our distinct four seasons, and the way it can change from snow storm, to sunny blue skies, to mud puddles—all in a matter of hours! With kids and pets rushing in and out no matter the weather, having flooring that's up to the challenge is a must. 
Thanks to modern scratch-resistant technology, our waterproof flooring is a worry-free way to protect kitchen and dining areas, mudrooms, bathrooms, laundry rooms, or anywhere messes or moisture are common. 
Quick and easy cleanup.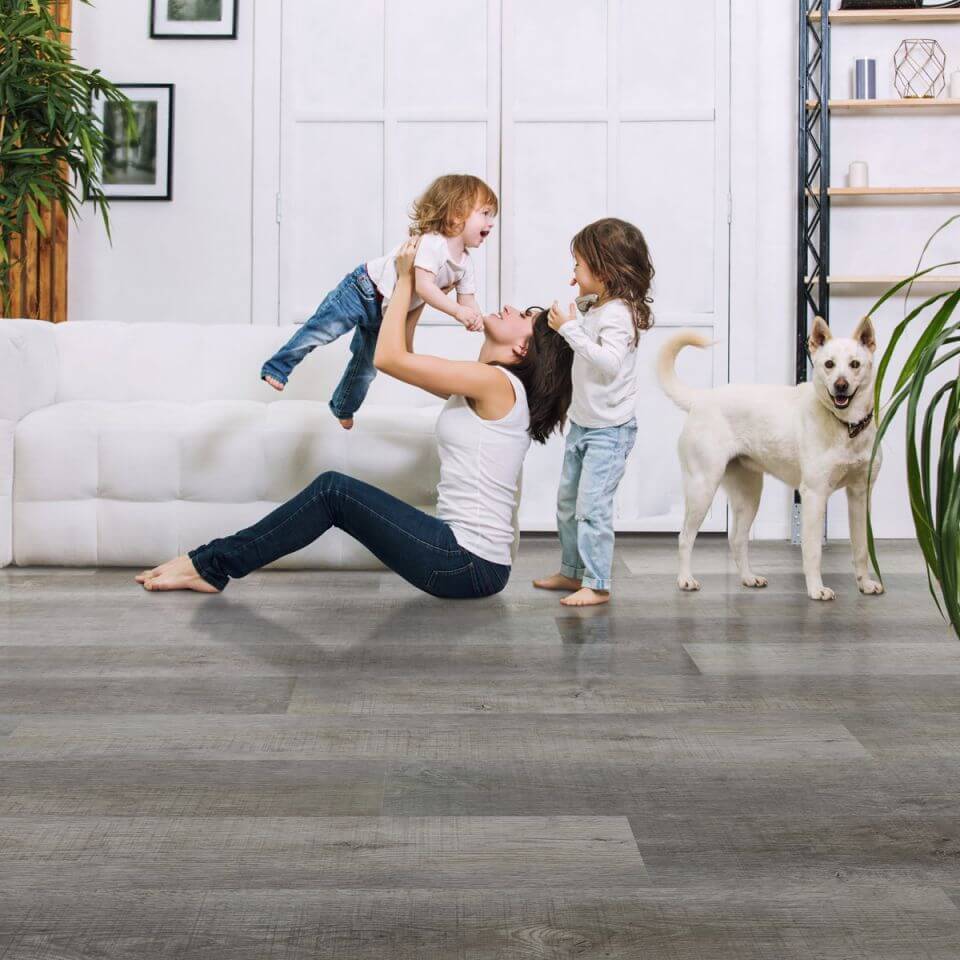 New puppy kicked over the water dish? Noticed the mud on your boots after walking halfway through the house? Accidents happen, and you shouldn't have to panic or rush. 
Unlike more traditional flooring options such as hardwood or tile that require more specialized care, all you need to care for your waterproof flooring is a dust mop or broom for casual upkeep and, when when the inevitable occurs, simply use a moist cloth or mop with a neutral pH cleaner for a deeper clean. 
With this type of flooring, there's no need for harsh chemicals or detergents, floor polish, wax, or oil soaps! 
Attractive on-trend style.
Our waterproof flooring options are available in a wide variety of designs, including many beautiful wood grain options to pull together any space. Our in-house designers are ready and excited to transform your vision into a reality. 
Stop by one of our thirteen locations across Utah, to discuss your needs with one of our experts and view available styles! 
Gentle on joints.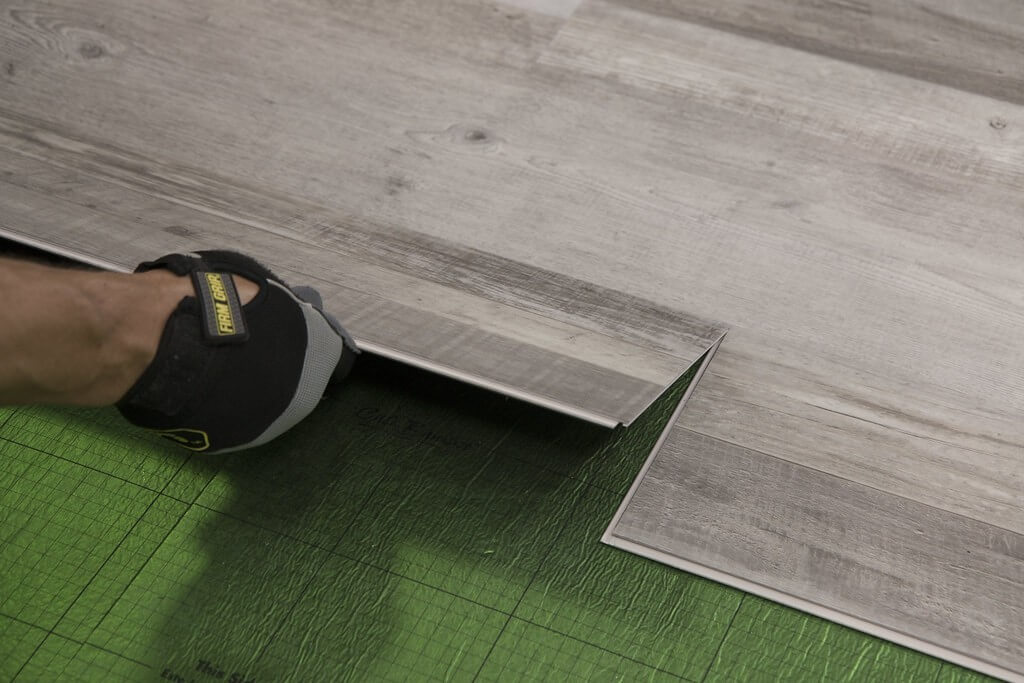 Your physical wellbeing is extremely important to us. The free-floating nature and standard underlay of our waterproof flooring options create a high level of comfort underfoot without sacrificing durability. As an added bonus, it also assists with temperature regulation to combat getting chilly toes in the morning! 
Looking for an even higher level of comfort? Simply ask about our premium underlay options! 
Sound dampening technology.
Remember those underlays we just mentioned? They don't just increase comfort! They're specially designed with properties that dampen sound both between floors and in the room itself. 
Easy installation and maintenance.
This type of flooring features a unique interlocking installation system that doesn't require glue, nails, or screws. This greatly simplifies the installation process, making it a phenomenal choice for professionals and DIYers alike. 
Another huge benefit of this system is that if for whatever reason a portion of your floor becomes damaged, you can simply remove and replace that individual section! 
Certifications you can trust.
We are proud to offer a large selection of industry-leading, high-quality products. Our inventory of top-rated flooring certifications include FloorScore, GreenGuard Gold, USGBC LEED, and more. 
Our neighborhood experts are prepared to answer any questions you may have, and support you every step of the way through your project, whether it be redecorating, remodeling, or a new build.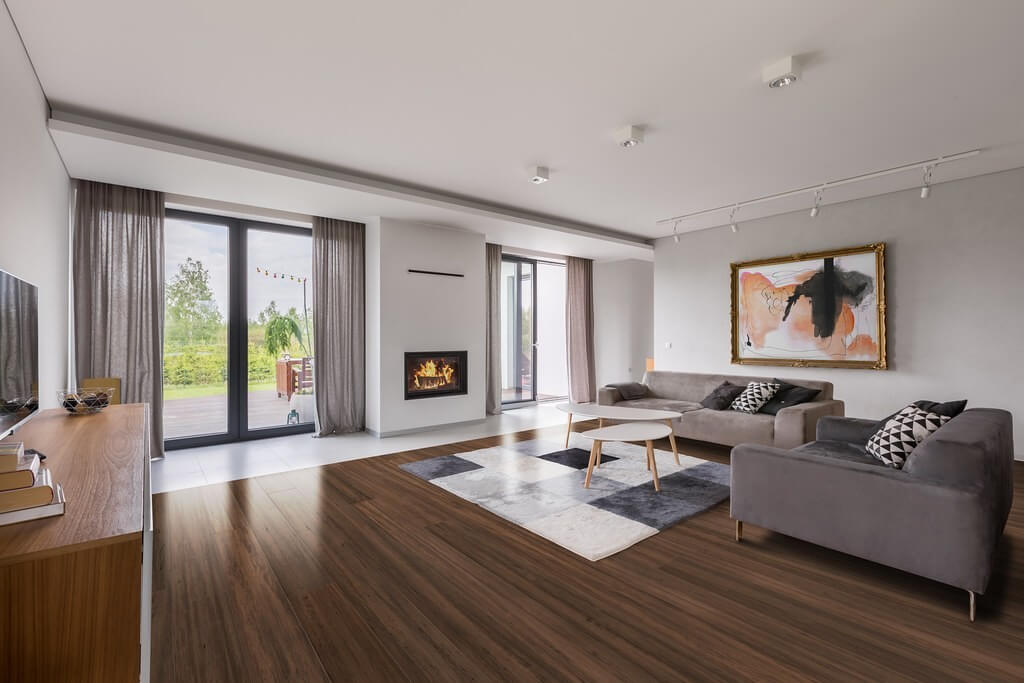 Conclusion
Waterproof flooring has come a long way in recent years, and is quickly gaining popularity in busy family homes and light commercial spaces alike due to its many attractive properties. It truly checks all of the right boxes! 
Whether you're looking for a waterproof flooring, carpeting, kitchen or bathroom project, or anything else—we're here for you. Check out our website for more information, or to find a location near you. We are always available for in-person conversation, via call, or even via text! 
—
Ogden's Flooring & Design is your family-owned connection in Utah to the greatest selection of carpet, hardwood, luxury vinyl, laminate, and tile options, in addition to custom granite, quartz, laminate, and other solid surface countertop choices at an affordable price. 
We currently have 13 locations throughout Utah to ensure you have convenient access to friendly service. Additional store details can be found at each flooring and design location's landing page: Roy, Sandy, Taylorsville, Riverton, Draper, Heber City, Lehi, Orem, Spanish Fork, Richfield, Cedar City, and St. George..