Whether you've been a dog owner for decades, or participated in the pandemic puppy rush, it's important to keep in mind the impact pet ownership has on your floors! Fortunately, we love furry friends of all shapes and sizes and have a variety of flooring options that are up to the challenge of clickity clack claws and water bowl mishaps.
We've put together a list of a few of our favorite options to get you started. Our friendly specialists at each of our local Utah stores love helping fellow pet lovers pick out a flooring option that meets their specific needs, too! 
Waterproof Luxury Vinyl

Our waterproof luxury vinyl flooring options are a match made in heaven for dogs and their humans! Its fully waterproof nature means you don't have to worry about accidents, water bowl spills, or drips from wet beards (looking at you, doodles). We also carry stain and scratch resistant options to keep your floors in tip top shape. 
Another benefit of this flooring option is that its free-floating nature and underlay provide padding underfoot to gently support aging pets who experience arthritis or other special needs. 
If that wasn't enough to convince you, our waterproof luxury flooring comes in a huge variety of on-trend designs, so you never have to sacrifice style for functionality! 
Tile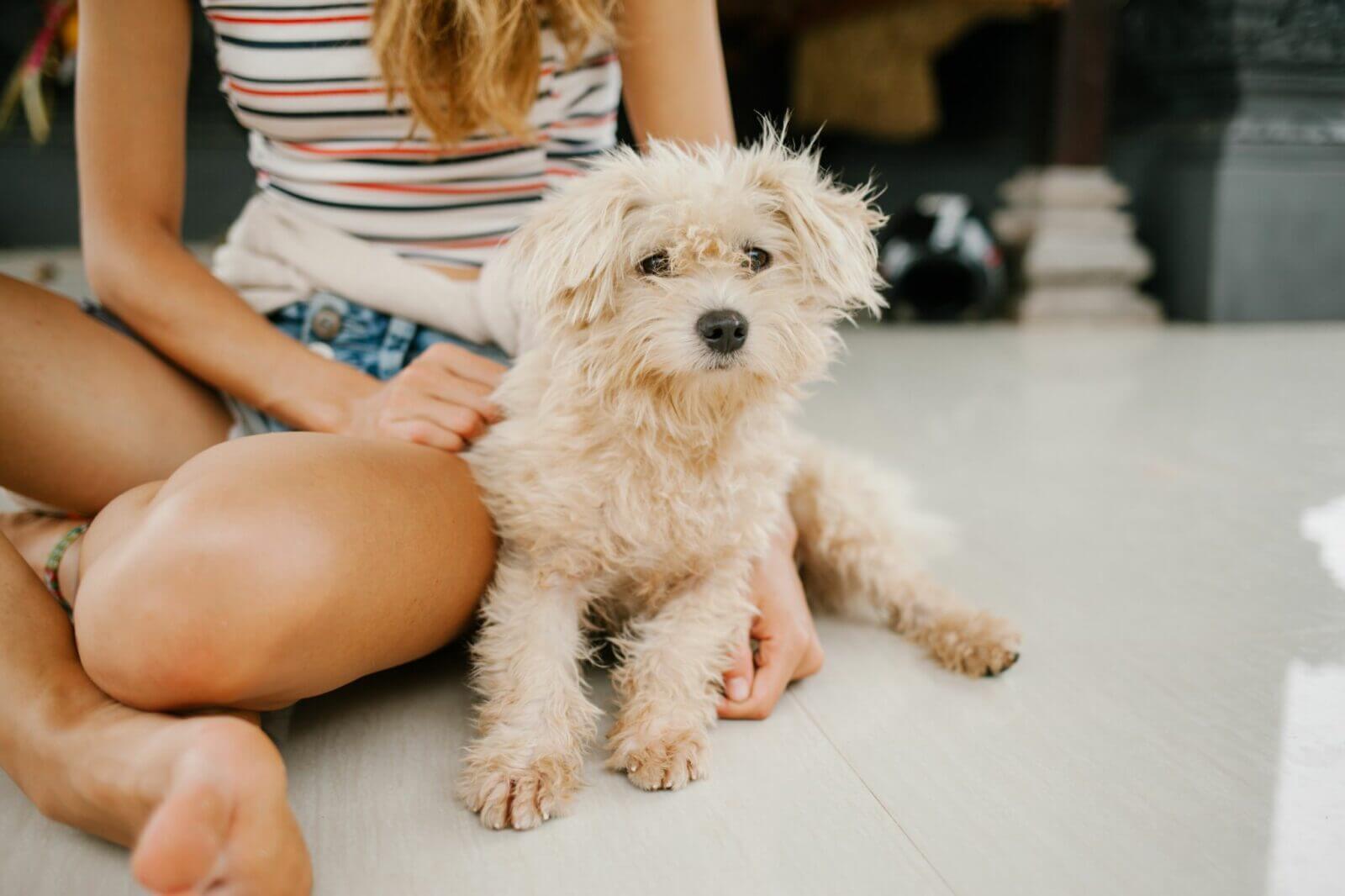 Ceramic, porcelain, and stone tile have been a popular choice for dog owners for decades, and there are many reasons why. 
Tile is a naturally attractive, durable flooring, and waterproof and scratch-resistant options further add to the appeal. Many dogs love the fact that tile is cool to the touch, especially after coming in from a romp in the backyard during Utah's hot summer months, but no need to worry—tile is a cinch to clean if Fido decides to jump in the kiddie pool before coming back inside! 
Laminate
While it may not be quite as sound-resistant as luxury vinyl, it shares the qualities of being durable and scratch-resistant, making it a very cost-effective alternative for larger spaces. Make sure you choose a waterproof option to maximize the life of your floors! 
Keep in mind that laminate can be a bit more slippery than other flooring types, which can prove difficult for older dogs. 
Carpet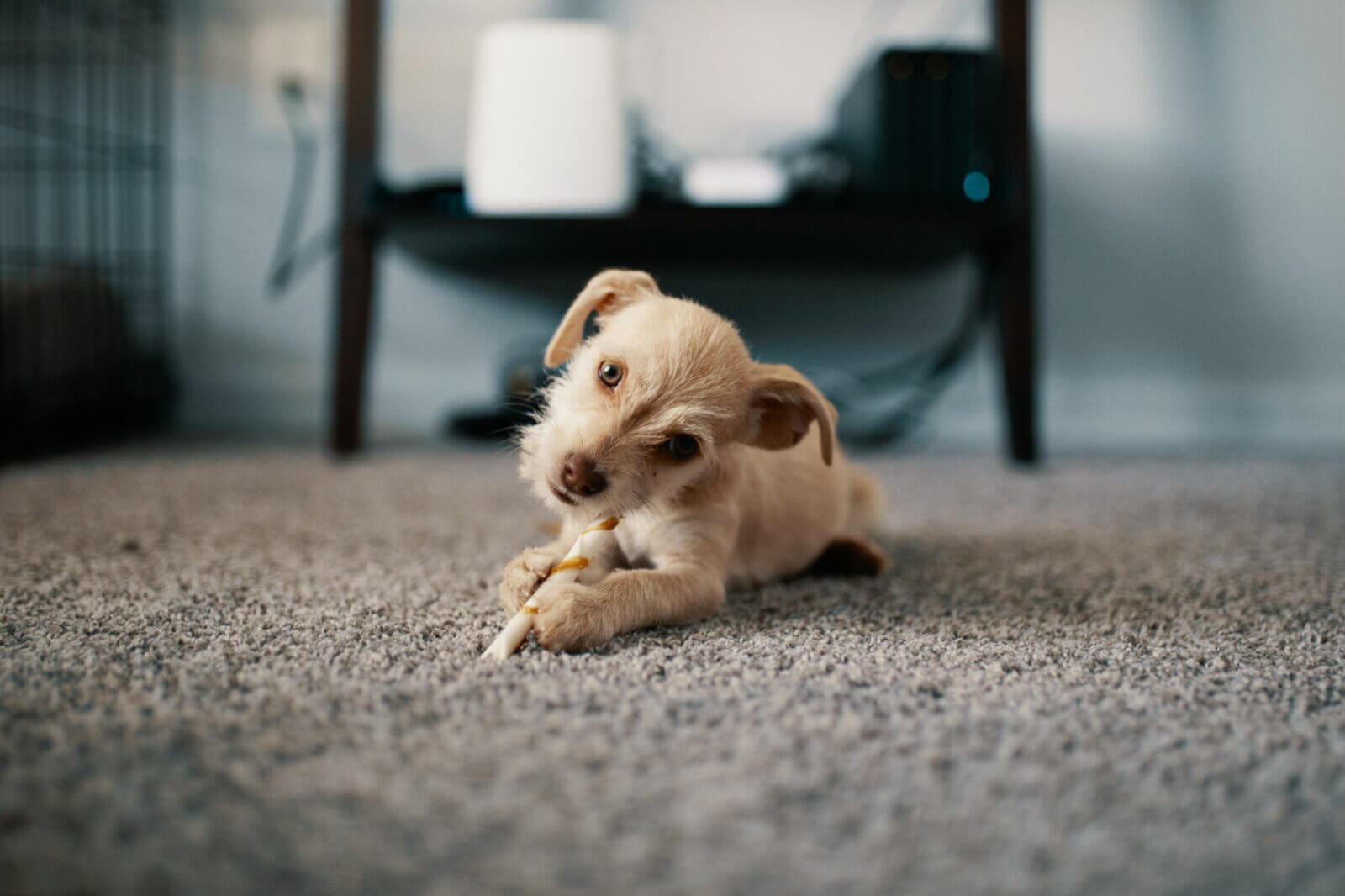 Yep, you read that right! While carpet isn't traditionally known for being the top pick for pet owners, advances in technology have made it possible to, with a little extra care, enjoy having carpet underfoot without having to worry about a pet mess ruining your flooring. 
Paws and claws can wreak havoc on the wrong type of carpet. What you want to look for is carpet that is water repellent, as well as stain and wear resistant. While you're at it, you can even consider antimicrobial and hypoallergenic options as well! Definitely talk to one of our experts if you're interested in carpeting a room where your dog spends a lot of time.
The other thing to keep in mind is that, as with any carpet, you'll still want to stay on top of vacuuming your floors regularly with a vacuum specifically designed to pick up pet hair, dirt, and dandruff to avoid buildup. It's also a great idea to shampoo your carpet once or twice a year, rather than waiting until it looks noticeably dirty. 
Conclusion
There are many things to consider when you adopt a furry friend, and also when you choose new flooring! We hope this has been a helpful guide to get you started—and this is just the beginning. If you have another flooring type in mind, such as classic or engineered hardwood, we'd love to talk with you about how to make it work. 
Ready to pick out the pawfect flooring? Find a location near you now. 
—
Ogden's Flooring & Design is your family-owned connection in Utah to the greatest selection of carpet, hardwood, luxury vinyl, laminate, and tile options, in addition to custom granite, quartz, laminate, and other solid surface countertop choices at an affordable price. 
We currently have 13 locations throughout Utah to ensure you have convenient access to friendly service. Additional store details can be found at each flooring and design location's landing page: Roy, Sandy, Taylorsville, Riverton, Draper, Heber City, Lehi, Orem, Spanish Fork, Richfield, Cedar City, and St. George.