There are many things to consider when choosing which type of flooring is right for you or your family, and today we're going to focus on which options are ideal for the beloved elders in our community.
Whether you're building the home you plan on retiring in, remodeling your current space, adding a mother-in-law's apartment above the garage, or any other project—we have all of the information you need to make the best choice! In this article we will cover the main points of consideration, our top recommended flooring for seniors, as well as a few final bonus flooring tips and tricks to reduce the risk of falls in the home.
As always, if you have any further questions, reach out to your nearest Ogden's Flooring & Design location, and one of our friendly specialists will be happy to help!
Elements to Consider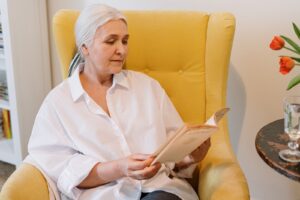 (Photo: Cottonbro via Pexels)
Here are a few things to ask yourself as you consider you or a dear one's particular flooring needs.
Accessibility:
Certain types of flooring are naturally easier to navigate for individuals who use a cane, walker, or wheelchair for mobility assistance. Should this be considered now, or is there a possibility of this in the future?
Care Needs:
What level of maintenance and cleaning is required for your chosen flooring? Who will be primarily responsible for this type of care?
Slip-Resistance & Shock Absorption:
Some flooring options can become slippery when wet, or are more slippery in general. In the unfortunate event of a fall, have you chosen a flooring that is more capable of gently absorbing some of the force of impact?
Comfort Underfoot:
Here in Utah we are blessed with strong, beautiful seasons! Whether you're avoiding getting chilly toes in the morning, or prioritizing flooring that is gentle on joints, remember that not all floors are created equal.
Another important thing to keep in mind is that different areas of your home will have different priorities in regards to these elements! It can be a helpful exercise to write down different areas of your home and rank each of these needs by level of priority to help you understand which options will be best for each.
For example, bathrooms and living rooms are two of the places most likely in the home for falls to take place, so slip-resistance and shock absorption should be carefully considered in these rooms!
Our Recommendations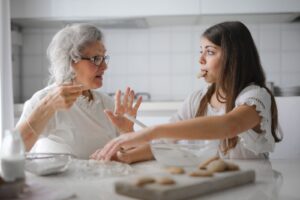 (Photo: Andrea Piacquadio via Pexels)
Here at Ogden's Flooring & Design, we recognize that there is no such thing as a one-size-fits-all solution! Your needs and desires for your home are as unique as you, and our goal is to understand your situation and support you in making the best choice. Here are our top three best flooring options for seniors to get you started!
1) Not-So-Classic Carpet
Carpet has come a long way since it first became accessible to the masses in the 1950's. Until relatively recently, carpet was a tricky option to consider because although it has a high level of comfort underfoot, it could be a hassle to keep clean and could cause issues for individuals sensitive to dust or allergens.
Nowadays, carpet can be an exceptional option for aging adults in many areas of the home. High quality hypoallergenic carpets can actually help filter the air, and pile and cushions can be customized to increase accessibility. Robotic vacuum technology can also greatly reduce the need for constant manual cleaning.
As a general rule of thumb, pile thickness should be kept to ½ inch or less, and the cushion underfoot should be kept firm enough to not impede the use of wheelchairs or other forms of mobility assistance.
We also love how many colors and patterns are available when it comes to carpet! Many seniors have more time to relax and enjoy time in their home, and we believe that their design choices should always bring them joy!
2) Luxury Vinyl Plank or Luxury Vinyl Tile
For spaces such as kitchens, bathrooms, entryways, and laundry rooms—Luxury Vinyl Plank (also known as LVP or LVT) is a wonderful option.
Vinyl flooring is another option that has improved leaps and bounds since its initial introduction. Improvements in technology have made this one of the most versatile and popular flooring options on the market! We think it's so great, in fact, that we wrote a whole blog about it!
What makes it particularly attractive for seniors is its ease of maintenance and cleaning, high durability and waterproof nature, and the availability of beautiful and realistic wood grain and stone styles.
Another wonderful benefit of Luxury Vinyl is that it is very gentle underfoot. Different underlays are available to cushion and support joints and absorb shock in the case of a stumble.
3) Cork
While less common than other types of flooring on this list, cork can be an attractive option for customers looking for a conscious option as it is often made from recycled or sustainably-harvested material, or for individuals who may be more sensitive to particular types of adhesives found in other flooring options.
Cork, while feeling solid underfoot, still offers a level of comfort and shock absorption. It can be susceptible to water damage, so care should be taken when used in locations in the home where water is often present, such as kitchens and bathrooms.
Other Considerations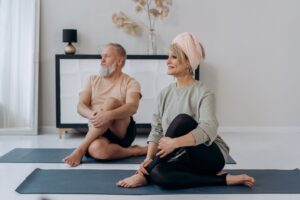 (Photo: Mikhail Nilov via Pexels)
No matter which type of flooring you have in your home, we also wanted to offer a couple of additional tips to maximize the comfort, safety, and ease of mind of individuals who are gracefully aging in place.
Invest in Anti-Fatigue and Anti-Slip Mats
You may not have heard the term "anti-fatigue mat" specifically, but you probably know someone who has one of them. Anti-fatigue mats are those delightfully supportive and cushy mats that are designed to be placed anywhere where someone will be standing for a long period of time (such as in the kitchen or bathroom). They help to reduce strain on the feet, knees, and legs when standing for a long period of time.
Some people also use them to kneel on when gardening!
Anti-slip mats should also be used wherever the floor is likely to get wet and may cause a slip hazard, such as in bathrooms or entryways. These mats should be specifically designed for this purpose, as other small rugs or mats can slide around when wet—making them into their own slipping hazard!
Prioritize Quality Lighting
Don't underestimate how much a well-lit area can help to prevent falls! Grandkids and pets alike, no matter how sweet, may forget to put away their toys and leave them in unexpected places. Take note of any inconvenient locations of light or lamp switches and invest in solutions that eliminate the necessity to cross a darkened area.
These solutions may look like automatic night lights, lighting strips on timers, or remote-control solutions that can be left in convenient locations throughout the home.
Avoid Area Rugs & Bulky Transitions
Area rugs are notorious tripping hazards. Not only do they create a slight elevation change that always presents a slight challenge for the best of us, their corners can curl upwards, or they can slip and slide on top of smooth surfaces.
While there certainly products available that help stick down corners and prevent movement, we recommend avoiding them when possible to eliminate unnecessary risk.
The other thing to consider is the transition between different types of flooring. Make sure that that transitions are as smooth as possible and do not have a "bump" or elevation change.
Conclusion
While this may seem like a lot of information, we're here to help you every step of the way so you can confidently choose the right option for your situation! We hope this guide helped to get you started as you make these important decisions about which flooring is best for seniors.
Do you have another flooring choice for seniors in mind that's not on this list? Every flooring has benefits and potential drawbacks, and we're here to support you in making an informed choice. Again, our experts are here to help!
Ogden's Flooring & Design is your family-owned connection in Utah to the greatest selection of quality carpet, hardwood, luxury vinyl, laminate, and tile options, in addition to custom granite, quartz, laminate, and other solid surface countertop choices at an affordable price.
We currently have 13 locations throughout Utah to ensure you have convenient access to friendly service. Additional store details can be found at each flooring and design location's landing page: Roy, Sandy, Taylorsville, Riverton, Draper, Heber City, Lehi, Orem, Spanish Fork, Richfield, Cedar City, and St. George.